It is always a victory when I meet an author connected to the military! Please join me in welcoming debut author

Eryn LaPlant

!
Eryn

: Hello to the world! I am Eryn LaPlant, a former slave for the working world and presently a woman of many trades. I am a wife, a mother, an antiques dealer, a painter, a child care provider, a baker, a gardener, a photographer, a historian and my favorite by far a novelist trying to break my way into the world of literature. I feel like I have a lot to talk about and hopefully I can keep an interested following. Thanks for checking me out!
Kim

: Your bio is very interesting! Antiques dealer - what was the most interesting thing you have purchased and/or sold? A baker - what is your specialty? Historian - what is your favorite time period?
Eryn

: Well, Kim I worked in boring jobs that never fit my interest or talents but simply made money and I hated those places. I hated being separated from my son and my writing, so I when I was laid off a couple of years ago my husband suggested I follow in his mother's footsteps and research and sell antiques. I tried it, liked it and found some interesting items, but got really turned off by it when we had one deal with a gorgeous 1914 mantle clock go bad. The people who bought it, destroyed it and tried to blame it on us - long story short, the clock we mailed out was a ruined mess by the time it came back. Since then I haven't sold anything. But I do collect antiques. My favorite piece right now is a 1925 sterling silver make-up compact, complete with rouge, face powder and ruby red lipstick still inside. It's gorgeous! My mother-in-law gave it to me for my birthday.

As for baking, I love taking one recipe and working with it until it my own unique creation. My all time favorite creation is a big, soft version of a ginger cookie. It's amazing!! The smells in my kitchen are incredible when I am baking those, just the pure tang of ginger and bite of clove and cinnamon in the air... uhhh I'm drooling thinking about it.

History, above all, is my favorite. I grew up in New England and I remember being all of nine or ten years old, walking across the battlefields of Lexington and Concord sensing the feeling of significance in the land beneath my feet. It was like history was talking to me even at that young age. American history is my favorite. I love researching and reading about the Presidents and their First Ladies. But as for time periods I have three major times that I love:
The Renaissance for it's surge of art and beauty. I love the ornate gowns and flourish of wealth shown in the paintings and sculptures during this period.

The Civil War is another favorite era. I watched Gone with the Wind when I was eight and fell in love with Scarlett O'Hara, her haughty attitude, and belle-of-the-ball dresses. Abraham Lincoln is another reason. I have studied him intensely over the years and even now, I live just miles from his early adulthood home and soak up as much information as I can about him.
By far though, the 1920s - 1930s are my favorite. I absolutely love the era of women's liberation, speakeasies and gangsters. I've studied John Dillinger, Al Capone, and Bonnie and Clyde so deeply that my sister, a budding journalist, turned to me as a fact checker for an article she wrote on John Dillinger when the movie Public Enemies came out. I took it as a compliment.
GONE WITH THE WIND



Kim

: You come from a long line of military service - not doubt your family have shared stories. Can you share a heartwarming one?
Eryn

: To tell the truth, most of the stories I heard growing up weren't the greatest. But the most heartwarming has to be my grandfather's story. He was a Lieutenant in the Army Air Force during WWII and was shot down in his P51 Mustang and captured by the Nazis. He stayed in a prison camp called Stalag Luft III for eighteen months until General Patton came in and liberated the camp. Patton was quoted as to have said, "Would you look at these men? They're a bunch of scarecrows. I'm going to kill those sons of bitches for this."
My grandfather didn't talk too much about the war when I was growing up, but when he passed away in 1994 my grandmother had his journal printed up of his time in the camps. It was then, all of us understood the atrocities that he went through during the war and I think we loved him even more, knowing what he went through.
General Patton
Kim

: Tell us about

BENEATH THE WALL

- what inspired it?
Eryn

: My father took my mother to see the Broadway musical Miss Saigon one year for their anniversary and she brought home the soundtrack, playing it for my sisters and I, not but twelve hours after she watched it. We loved the music, but for me, I never liked the sixties and especially never liked anything having to do with the Vietnam War. In my eyes, it was always dirty and full of protesting hippies. So after becoming enthralled with the play, I had a lot of questions and started studying Vietnam and it's time period. The more I studied, the more I realized I never gave the era a fair chance and I dove into the information, absorbing it like a sponge. Then one day, while listening to Miss Saigon for the millionth time, I starting thinking - I wonder what happens to the boy at the end of the musical? Did he grow up knowing about his mother or was it too painful for his father to tell him about the sordid details of his relationship with her and her consequential death? My writer's mind kicked in and I had to jot down all of my ideas right then and there in the parking lot of my university. Soon, the story evolved way beyond Miss Saigon and became it's own fictional story about a female combat photojournalist and her experiences in a U.S. Marine camp in Vietnam and Beneath the Wall was born.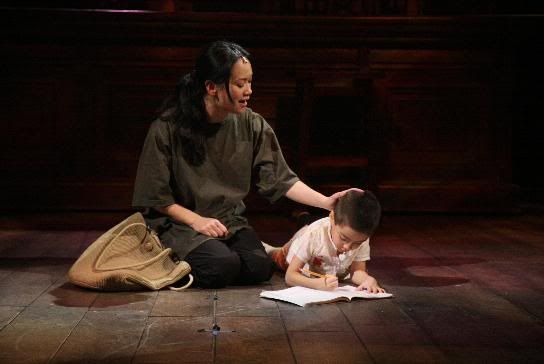 MISS SAIGON



Kim

: What's next for

Eryn LaPlant

?
Eryn

: Another book, of course! Hopefully my publisher will like my second novel and want to produce it. It's a bit different than Beneath the Wall. It's a time travel set partially in 2001 and 1928, involving a history student and a musician lost in time. Yes, the 1920s, my favorite era! It's a wonderfully fun, mysterious and dramatic story called

The Blue Lute

. After that, The Blue Lute has a short untitled sequel and currently I'm working on my newest book that I affectionately call my World War II Fairy Tale, since I don't have a title for this one yet either.
Flappers in Paris
Mahalo,

Eryn

, for sharing with us! I am giving away a copy of

BENEATH THE WALL

(winner's choice of print or digital),
Hidden beneath the wall, a journal. With the answers to everything.

First a mystery guest shows up at the funeral for Jesse Parker's mother, Julianne. Then a hidden box reveals papers that claim Jesse's brothers were adopted. All it takes is one more surprise discovery for the real truth of Julianne's life to be brought to light.

Hidden from Julianne's children is a journal containing the deeply personal story of her time as a combat war journalist in Vietnam. Mixed among her tale of the bombardment of war and harsh reality of being the only female amongst Camp Dakota's troop of Marines, is the history of Julianne's relationship with Sergeant Mack Roberts, the son of a WWII sailor and Japanese woman. Both Mack and Julianne are outsiders in a sense—bound together by love, and torn apart by war.

Yet the secrets that follow in the pages of his mother's journal show far more than an average love story as Jesse learns how twisted fates can become, and how a selfless attempt to give him and his siblings the most normal lives possible will turn everything they've ever believed about themselves on end.
1. Leave a comment about journals - do you keep one? Do you like to read journals written by families, friends, or even a notable person?
I think of my travel blog,

ALOHA ON MY MIND

, as a photo journal of our time here in Hawaii.
2. This giveaway is open to all readers.
3. Comments are open through Saturday, September 22, 10 pm in Hawaii. I'll post the winner on Sunday, September 23.
Beneath these walls lie ancient Hawaiian secrets