We have winners!
Celebrate Little Victories - Labor Day Hop
- Jeanne M. is the winner
Jill Shalvis' FOREVER AND A DAY
- Sue wins a book from Jill's backlist
Elizabeth Chadwick's A PLACE BEYOND COURAGE
- Leah is the winner of Sourcebooks' giveaway
- Na is the winner of the Hawaiian Royal souvenir
Rochelle Alers' ANGELS LANDING
- Di is the winner

KRISTINE GRAYSON'S CHARMING BLUE
- Johanna is the winner of a Kauai 2012 calendar
Corrina Lawson, Geek Mom and Romance Author


- Barbara E. is the winner of LEGACY
Debra Webb's POWER (Faces of Evil):
- Dani is the winner of Forever's giveaway!
Winners - please claim your prize by sending your mailing address to

sos.aloha@yahoo.com

.
Yesterday I featured CC Humphreys when I celebrate little victories .... so let's celebrate them today:
1. I posted a five star review of Anne Elizabeth's

A SEAL AT HEART

on Goodreads at this

link

. The book's pub date is December 4, 2012.
2. I enjoyed lunch on Wednesday with my youngest son ... and shared Oreos with his sixth grade class. Yes, I am still on the diet ... so I only had one cookie!
Oreos courtesy of Wikipedia
3. I received an ARC for the anthology

THE LADY MOST WILLING

from Julia Quinn, Eloisa James, and Connie Brockway.

4. I volunteered at the monthly library sale on Saturday. I met a teacher from the Punahou School (at this

link

). Punahou's most famous alumni is President Obama. The teacher mentioned that Alex O'Laughlin's son and Daniel Dae Kim's children attend Punahou. We then chatted about the return of H5O for Season Three on September 24.
Oh, I can't wait!
How was your week?
Mahalo,
Kim in Hawaii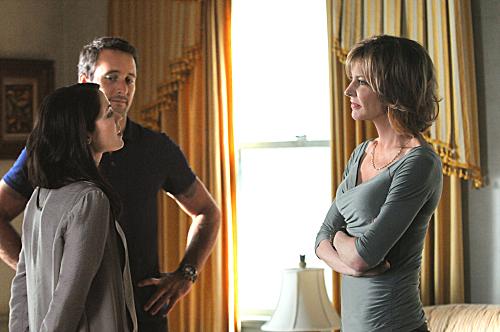 H5O Season Three - Steve's girlfriend meets Steve's mom!